AI-Powered Analysis: Less Time Watching Recordings, More Time Gathering Insights
In the mobile game development world, the race is always a high-speed one. Hundreds of new games come out every day, competition is fierce, and making the best game can feel like a race against time.
This is one of the reasons why, at PlaytestCloud, we guarantee delivery of most playtest results within 48 hours–so you can understand how players feel about and play your game as quickly as possible. However, once you get those results, a new bottleneck in the process might appear… you. It's not your fault, though. Every playtest comes with a lot of video content to watch, and you're only human–and a very busy one at that! You can try to rush through it–and a lot of people do. But sometimes, doing something quickly doesn't mean doing it well. We have seen it time and time again, as an example, a game developer having to rush through the results to meet a deadline, possibly missing key highlight moments in their playtest. Regardless of how essential and important playtesting is, one part of it has always been time-consuming and, occasionally, a pain: taking the time to watch the videos themselves in order to gather the insights you need.
Well, brace yourself for an industry-changing upgrade: our AI-Powered Analysis feature! Welcome to 2023, a realm where AI doesn't merely exist; it thrives to make your tasks lighter. And now, that applies to your playtesting too, with our new feature that can annotate and summarize playtests automatically, immediately showing the key points of your playtest recording along with a summary–giving you a map of what you can expect from and look at in each recording.
And don't worry: this feature is completely optional, and can easily be turned on and off at any moment or even completely disabled and taken out of your account by request. Let us know if you'd like us to do so, and we'll be happy to!
AI-Powered Analysis can't replace a proper analysis from a real human, obviously, but it can help you get started with all your lengthy playtest recordings. Until now, analyzing a playtest always started with a blank page–but with AI-Powered Analysis, the page will already have some annotations and summary in it, saving you time and giving you the kickstart you need. Think of it as a speed booster–like Bullet Bill in Mario Kart–a power-up that helps both researchers and non-researchers expedite the process of understanding and analyzing playtests.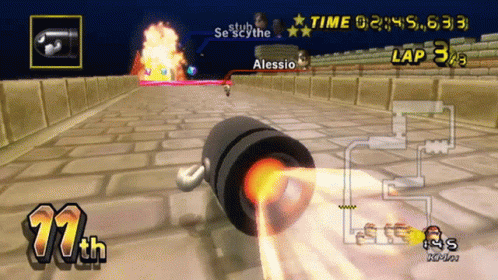 What can AI-Powered Analysis do for me?
Our AI-Powered Analysis feature, available for all our playtest types and clients at no extra cost, streamlines the most time-consuming task in playtesting: watching and interpreting recordings. It delves into your playtest videos, like a data miner on a speedrun, detecting key moments where players comment about enjoyment, usability, design, monetization, or even frustration. This feature doesn't just spot these moments; it crafts them into annotations and nests them neatly into your playtest videos. It also condenses each player's journey into a brief summary. All primed for your speedy review of your results in less than the time to get a cup of coffee.
Our AI power-up is versatile, currently assisting with all our playtest types, meaning Single-session playtests, Multi-session playtests, Longitudinal studies, Player Interviews and Concept tests. And yes, your Bring-Your-Own-Players (BYOP) playtests are also covered!
And it's not just great to help you analyze and know what's in each of your recordings faster: it can help in different languages, too. English isn't your strongest language? Or maybe you have a recording from a player speaking in a language you're not proficient in? In these cases, the AI-Powered Analysis is here to help. The insights from English playtests could be made available to researchers comfortable with–for example Mandarin or Japanese–and vice-versa; further broadening the reach and inclusivity of our platform. A lot of times, teams have to outsource localization and player recruitment for local playtests due to language barriers–but now, this new feature can provide you with transcripts of your playtests in your desired language. We're all about ensuring you capture global gaming insights without language barriers, fostering a truly international game development experience, and our AI-Powered Analysis feature is another step in that direction.
You'd still rather analyze the playtests all by yourself? No worries: this feature is optional, and you can toggle it on and off on the order form for your playtest.
Eager to revisit older playtests with this new power-up? Just reach out, and we'll enable AI-Powered Analysis on your previous playtests.
Need a customized approach? We're here to tweak the AI instructions to align with your unique research objectives.
How does AI-Powered Analysis work?
This new feature is available for users of our currently offered subscription plans, and is also included in both our Starter Plan and for all one-off projects. If you cannot find AI-Powered Analysis in your order forms yet, it could be that we're still in talks with our contacts at your game studio about activating this feature. Please feel free to reach out to us for more information, or ask your organization's PlaytestCloud admin for more information.
All AI-Powered Annotations will quickly blend effortlessly into your playtest videos, identifiable under the 'Annotations' and 'Summary' tabs, with 'AI' as the author. Toggle these on or off as needed.
With this feature, nothing has changed with our promise to you about the security of your data. No personal data is traded in using the AI-Powered Analysis feature, guaranteeing a secure and private playtesting experience.
Right now, AI-Powered Analysis works by analyzing the transcript in 5 main categories: usability, game design, enjoyment, monetization and frustration. We then create and add timestamped annotations directly onto your playtest results.
Does your study have a very specific research objective? Don't worry: we can adjust the categories and have the analysis tool focus on those. Just contact us, and we'll make it happen.
Give it a try
Our AI-Powered Analysis feature is your secret weapon in the race that's game development, and a way to give you more time for what really matters: making games that players love. Every minute you save on dissecting playtest videos is an extra minute to spend refining your gameplay, perfecting your graphics, or introducing that surprising plot twist. And, with this new feature, you'll be able to save a lot of time.
Think of this feature as your co-pilot. It's more than just a tool; it's a catalyst for change, an accelerator for progress. Embrace the AI powered advantage, and empower yourself to make swift, informed decisions. With more insights at your fingertips–and in less time than ever–you're free to elevate your game to unprecedented heights.
Don't just take our word for it; try it today. New to PlaytestCloud? Register now, and start using this new feature in your trial recordings. Already a user? Log in, and start using AI-powered Analysis now!
Equip your game development arsenal by enabling AI-Powered Analysis and blaze through your playtest reviews, as your games level up at breakneck speed.